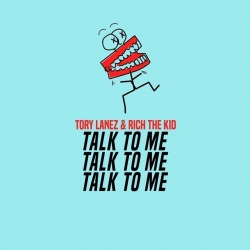 Tory Lanez & Rich The Kid
"Talk To Me"
Daystar Peterson, better known by his stage name Tory Lanez, is a Canadian rapper, singer, songwriter and record producer. He received major recognition from the mixtape Lost Cause (2014) and the singles, "Say It," and "Luv", which peaked at number 23, and 19 on the Billboard Hot 100 respectively. In 2015, Tory Lanez signed to Mad Love Records and Interscope Records. Lanez released his debut studio album, I Told You on August 19, 2016. His sophomore album, Memories Don't Die was released on March 2, 2018. On October 26, 2018, Lanez released his third studio album, Love Me Now?.
In an interview on Nice Kicks with Ian Stonebook, Lanez described his own personal style he calls, Swavey: "Swavey is a two-adjective word. A lot of people use it as an attribute, but the real definition of swavey is a genre of music. The genre of music is the genre of fusing more than one together. I know it sounds strange, but if you ask an artist what they do they're going to say that they rap, they sing, they do rock-a lot of people are multi-talented. They get looked at confused, but I don't think that they're confused. I feel that they're just talented, swavey artists. Labels want to put you in one lane, but I feel like there are so many people are more than that and they're swavey artists."
Media