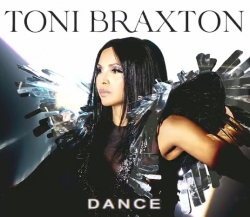 Toni Braxton
"Dance"
Toni Michelle Braxton (born October 7, 1967) is an American singer, songwriter, pianist, record producer, actress, television personality, and philanthropist. She began performing with her sisters in a family group known as The Braxtons in the late 1980s, who were signed to Arista Records.
Braxton attracted the attention of producers Antonio "L.A." Reid and Kenneth "Babyface" Edmonds, later recording a series of songs for them before being signed to their Arista-distributed imprint, LaFace Records. Her self-titled debut studio album (1993) reached number one on the Billboard 200 chart in the United States, selling 10 million copies worldwide and seeing the international success of the singles "Another Sad Love Song" and "Breathe Again". The album brought Braxton three Grammy Awards, including Best New Artist.
Secrets (1996), Braxton's second studio album, saw continued commercial success, selling 15 million copies and generating the singles "You're Makin' Me High" and "Un-Break My Heart", which became her first singles to reach the top of the Billboard Hot 100 chart in the United States. Secrets brought Braxton an additional two Grammy Awards, for Best Female Pop Vocal Performance and Best Pop Vocal Album.
Her third studio album, The Heat (2000), opened at number 2 on the Billboard 200 and saw the success of its lead single, "He Wasn't Man Enough", which reached number 2 on the Billboard Hot 100 and brought Braxton her sixth Grammy Award, for Best Female R&B Vocal Performance.
Braxton's subsequent studio albums, More Than a Woman (2002), Libra (2005) and Pulse (2010), were released amid contractual disputes and health issues, including a lawsuit against her former manager for mismanaging her relationship with Arista Records. In 2014, Braxton and longtime collaborator Babyface released a duet album entitled Love, Marriage & Divorce, which earned the duo an additional Grammy Award for Best R&B Album in 2015.
Throughout her career, Braxton has sold over 67 million records, including 41 million albums worldwide. She has won seven Grammy Awards, nine Billboard Music Awards, seven American Music Awards, among numerous other accolades.
Aside from her success in music, Braxton has become a television executive producer and personality, being involved in the seventh season of the reality competition series Dancing with the Stars and in a reality series entitled Braxton Family Values, where Braxton is executive producer and star since 2011 on We TV. Braxton is also an executive producer of its spin-off, starring her younger sister, Tamar, the Tamar & Vince. In 2011, Braxton was inducted into the Georgia Music Hall of Fame.
Media