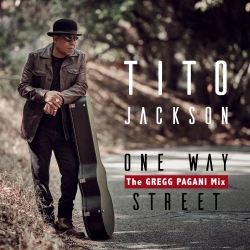 Tito Jackson
"One Way Street"
Toriano Adaryll "Tito" Jackson is an American singer-songwriter and guitarist. Jackson was an original member of The Jackson 5 and The Jacksons, who rose to fame in the late 1960s and 1970s with the Motown label, and later recorded as a solo artist on the Epic label in the late 1970s and 1980s. Tito is the third child in the Jackson family.
Jackson began a solo career in 2003 performing as a blues musician in various clubs with his band, which included producer and guitarist Angelo Earl, and a management team that included Ed Tate. In 2007, in the United Kingdom, Jackson appeared as a judge on the BBC celebrity singing competition Just the Two of Us for series two of the show. He replaced singer Lulu, who was a judge on series one. His co-judges were vocal coach CeCe Sammy, musician Stewart Copeland and radio DJ Trevor Nelson. During the tenure of his brothers' reality series, The Jacksons: A Family Dynasty (2009), which was produced, released, and transmitted after his brother Michael had died, he served as one of the executive producers alongside his other brothers.
In 2016, Tito Jackson joined his brothers and sisters and scored his first solo hit on the Billboard charts with the single, "Get It Baby," featuring Big Daddy Kane from his album Tito Time becoming the ninth and final Jackson family sibling to place a solo single on the charts. The album was released in Japan late in 2016, and in the U.S on iTunes in April 2017. Since its launch, three singles have been released to radio in the US. The first single, When the Magic Happens, featuring Jocelyn Brown, was released on April 1, 2017. Jackson launched the album for the UK market in September 2017.