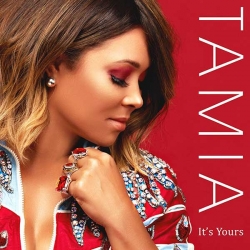 Tamia
"It's Yours"
Tamia Marilyn Hill is a Canadian singer, songwriter, producer, and actress. Born and raised in Windsor, Ontario, Tamia performed in various singing and dancing competitions as a child. In 1994, after signing a development deal with Warner Bros. Records, she was asked by veteran producer Quincy Jones to appear on his album Q's Jook Joint (1995), earning her Grammy Award nominations for their collaboration on "You Put a Move on My Heart" and "Slow Jams." Her self-titled debut album was released in 1998 and followed by a series of successful albums with Elektra Records, including A Nu Day (2000) and More (2004). Several songs from these albums became hit singles on the pop and R&B record charts, including "So Into You", "Stranger in My House" and "Imagination" as well as her collaborations "Into You", "Missing You" and "Spend My Life with You".
Since her departure from Elektra, Tamia has released most of her projects independently on her own label Plus One Music Group, through ventures with Def Jam, eOne Music and others. In 2015, her sixth album Love Life debuted and peaked at number two on Billboard's Top R&B/Hip-Hop Albums, becoming her highest-charting album on the chart. A NAACP Image Award recipient for her work with singer Eric Benét, Tamia is a six-time Grammy Award nominee and has been nominated for numerous other awards and accolades, including a Soul Train Music Award, a Source Award and four Juno Awards. Married to American former basketball player Grant Hill, the couple has two daughters that were born in 2002 and 2007. Having been diagnosed with multiple sclerosis in 2003, she is noted for her advocacy on behalf of others also affected for the National Multiple Sclerosis Society (NMSS).
In August 2014, Tamia signed with Def Jam Recordings, marking her return to major label ranks. Love Life, her sixth album, was completed in ten days and released on June 9, 2015 in the United States in collaboration with her own label, Plus One Music Group. A departure from her previous independent projects, she worked with a wider range of high-profile producers on its songs, including Polow da Don as well as Oak Felder and Pop Wansel from duo Pop & Oak as well as frequent collaborators Christopher "Tricky" Stewart and The-Dream. Love Life earned generally favorable reviews from critics, who summed it as "grown-up, worn-in R&B at its finest,"[34] and debuted at number 24 on the US Billboard 200, selling 16,000 copies in the week ending June 14, 2015. It also debuted on top of Billboard's Top R&B Albums and at number two on the Top R&B/Hip-Hop Albums, becoming Tamia's highest-charting album ever on both charts, and spawned produced three singles, including lead single "Sandwich and a Soda" and follow-up "Stuck with Me" both of which reached the top twenty on Billboard's Adult R&B Songs.
Passion Like Fire, Tamia's seventh album, was released in September 2018 through Plus One, 21 Entertainment, and eOne Music. A breakaway from her previous album, the singer worked with a smaller team of collaborators on the album, involving longtime contributors Lil Ronnie, Shep Crawford and Salaam Remi.While critical reception was generally lukewarm, the album debuted at number 145 on the US Billboard 200, becoming her lowest-charting album yet, also reaching number 17 on Top R&B Albums chart. Its release was preceded by the singles "Leave It Smokin'" and "Today I Do", the former of which became her biggest hit in years, peaking at number two on Billboard's Adult R&B Songs. In support of the album, Tamia embarked on the Passion Like Fire Tour which launched on September 18, 2018 and will visit most of the major US cities.
Media