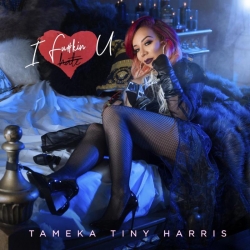 Tameka (Tiny) Harris
"I F**King Love U"
Tameka "Tiny" Harris is a multi-talented artist and television personality. Not only is she an incredible singer and songwriter, but she is a businesswoman. Born in College Park, GA, she rose to fame in the 1990s as a member of the legendary multi-platinum group, Xscape. Tiny joined the R&B quartet in 1992 while attending Tri-Cities Performing Arts High School. The producer Jermaine Dupri later discovered the group after singing at his birthday celebration in Atlanta. Immediately, Dupri signed the ladies to his new the record label, SO SO Def Recordings. Together the ladies recorded three platinum albums: Hummin' Comin' at 'Cha, Off the Hook, and Traces of My Lipstick. She received two Soul Train Music Awards for Best New R&B Artist and Best R&B Album and the A-Town Music Award for Best Duo/Group. Tiny sang lead vocals on six of Xscape's hit singles: "Understanding," "Do You Want To?", "All I Need," Love's a Funny Thing," "My Little Secret," and "Am I Dreamin." She has recorded on soundtracks for Soul Food, Panther, Bad Boys, and Love Jones.
Along with her group member Kandi Burruss, Tiny was honored with a Grammy Award for her writing contributions on TLC hit single "No Scrubs." Some of her other accomplishments include an American Society of Composers, Authors, and Publishers award in the R&B and Pop Music categories for "No Scrubs," as well as the ASCAP Rap Award for her work on the Sporty Thievz track "No Pigeons." Tiny has worked with other artists such as T.I., 8 Ball & MJG, Lil Kim and Bow Wow. In 2005, she reunited with LaTocha and Tamika Scott and new member Kiesha Miles to release an Xscape Album entitled "Unchained" and released the single, "What's Up." In 2014, she returned to the music industry under her new label Pretty Hustle and released her first solo single "What The Fuck You Gon Do?" This single reached the number five spot on the iTunes R&B/Soul charts and less than 24 hours it became the number one song on the charts for its genre. Tiny also has writing credits on the song "Shape of You" by Ed Sheeran.
When she is not busy working on music, you can find Tiny filming her reality series. In 2009, Tiny and Toya premiered on BET. The show was the highest rated series debut in BET history. In 2011, T.I. & Tiny: The Family Hustle premiered on VH1. The series chronicles the lives of her, husband T.I., and their family. Also aired VH1 in 2014, Tiny and Shekinah Weave Trip premiered the launch of a mobile hair salon. Tiny was the executive producer of all the reality tv shows.
In 2017, it was announced she would own the Atlanta Heirs basketball team under the newly developed Global Mixed Gender Basketball league, which was founded by rapper Master P. Her team was a part of its inaugural debut on September 23, 2017 in a neutral match at the Cox Pavilion in Las Vegas, Nevada against Master P's own squad, the New Orleans Gators. In 2018, Tiny open a juice bar in Atlanta, Ga called "GOT DA JUICE."