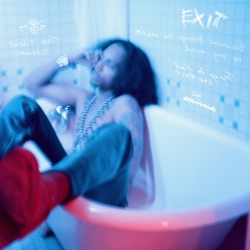 Sebastian Mikael
"Exit"
Sebastian Mikael is back. But this time, it's on his terms. "It's a new introduction," he says. "It's been a journey. I took a couple years off just to dive into my identity. Who I am as an artist and what my sound is."
Mikael wasn't looking for success when his "Beautiful Life" went viral in 2012. It just kind of happened. "It was never meant to be a song that we were gonna push," he explains. "We just did a street performance. It was real. People passing by, stopped and watched. It was a natural, organic video," he said. He immediately inked a deal with Slip-N-Slide Records and before he knew it, he landed on the radar of industry vet Sylvia Rhone. A label deal with Epic Records was secured and Mikael was quickly put into sessions with producers and writers like Jim Jonsin, Rico Love and Salaam Remi.
Looking back, it was too much too fast. "I was thrown into the fire a little too quick." He needed creative autonomy. "We then decided to do it independently." He left the deal and released Speechless in 2014, which featured the Top-10 "Last Night" (featuring Wale). "From there, I kinda just grew. I wasn't writing my own music [before]. It was other people dictating what my direction should be."
At 30 years old, Mikael is in control. "Now, I don't have fear. I don't second--guess myself. I've made sure that this time around, the music is all the way me." Slip-N-Slide Records joined forces with Atlantic Records, feeling that it is a better fit for Sebastian. With his collective, Most High Kingdom, he looks forward to his new project. "It's raw. It's who I am. I want people to be inspired. The music that I have now should have been my first introduction." Mikael and the collective--six instrumentalists, vocalists, rappers and producers; Sean Wire, Najee, and Milk--handle performance and production on the effort. "This whole album was created in my room in Boston. That's really how we molded the sound that I have. It was all of us being inspired by each other." He describes the project as "emotional," touching upon his struggles, including the loss of his best friend.
Through pain comes triumph. "The music kept me focused," he says. "The album became an emotional rollercoaster. Everything I've gone through. The highs and the lows."
Media