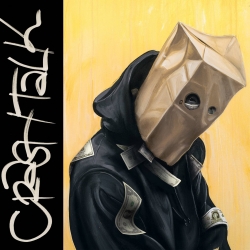 ScHoolboy Q
"CrasH Talk"
Quincy Matthew Hanley, better known by his stage name ScHoolboy Q, is an American rapper and songwriter from South Central Los Angeles, California. In 2009, Hanley signed to Carson-based independent record label Top Dawg Entertainment (TDE) and in late 2011, secured a recording contract with major label Interscope Records. Hanley is also a member of the hip-hop supergroup Black Hippy, alongside label-mates and fellow California-based rappers Ab-Soul, Jay Rock, and Kendrick Lamar.
In 2008, Hanley released his first full-length project, a mixtape titled ScHoolboy Turned Hustla. He later released a follow-up in 2009, titled Gangsta & Soul. He then returned in January 2011, with his first independent album, titled Setbacks. The project, released under TDE, to digital retailers only, reached number 100 on the US Billboard 200 chart. A little over a year later, his second independent album Habits & Contradictions, was also released exclusively to digital retailers. The album received generally favorable reviews and debuted at number 111 on the US Billboard 200.
After signing with Interscope, Hanley subsequently began recording his major-label debut studio album, titled Oxymoron. The album was released on February 25, 2014 and debuted at number one on the US Billboard 200. The album was supported by the singles, "Collard Greens", "Man of the Year", "Break the Bank" (promotional single), "Studio" and "Hell of a Night", with "Collard Greens", "Man of the Year" and "Studio" all charting on the US Billboard Hot 100 chart.
On December 18, 2016, Schoolboy Q announced via social media that he would be releasing an album in 2017. In February 2017, Schoolboy Q stopped by Zane Lowe's Beats 1 radio show and revealed that his new album was close to completion. He said he's grown a lot since he started his rap career and said his new project is going to show his evolution: "It's more so my life after I made it to the point of ScHoolboy Q. I gave you me, but I never gave you the other side of me: the father, the dude that's actually happy, the dude that doesn't be in the hood just hanging out. The dude that's trying to put his homies in position now. I'm not a deadbeat father anymore." In June 2017, Schoolboy Q revealed on social media that he had made "like 50 songs" during the recording process of his fifth studio album. On July 31, 2018, label president Top Dawg confirmed via Twitter that the album was "90-95% done." On September 15, 2018, Schoolboy Q announced that the album has been delayed due to the death of his longtime friend and frequent collaborator Mac Miller. On March 11, 2019, Schoolboy Q announced "2 MORE DAYS" via his Instagram. The following day a behind the scenes video of Schoolboy Q working on new music was posted with the caption, "2morrow nigHt we back at it." On April 15, 2019, Schoolboy Q announced the title of his 5th studio album "CrasH Talk" via his Instagram. The album was released on April 26, 2019.
Media