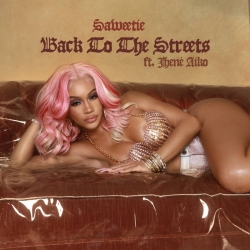 Saweetie
"Back To The Streets"
Diamonté Quiava Valentin Harper, known professionally as Saweetie is an American rapper and songwriter. After the release of her debut single "Icy Grl", she was signed to Warner Records and her manager Max Gousse's record label Artistry Worldwide. She released her debut extended play, High Maintenance on March 16, 2018. Her second EP, Icy was released in March 2019, and spawned the top 40 single "My Type". Her debut album, Pretty Bitch Music is expected to be released in 2021 and was preceded by the single "Tap In".
Saweetie began posting short raps on her Instagram account in 2016. One video featured her rapping over the beat from Khia's "My Neck, My Back (Lick It)", which would eventually turn into "Icy Grl". The song was released on her SoundCloud in the summer of 2017, and brought her to the attention of Max Gousse, a well-known producer and A&R executive, who became her manager. The video for the song went viral on the Internet and went on to accrue 100 million views on YouTube as of June 2020.
To follow that up, Saweetie released in that same month a freestyle rap called "High Maintenance" accompanied by a short clip of herself rapping a verse to the song, all while chilling in her kitchen. It would go viral on Instagram and Twitter as well. In October 2017, she released a video for her song, "Focus", which samples DRAM's "Gilligan".
In January 2018, she was named Tidal's Artist of the Week and one of Pigeons & Planes' Best New Artists of the Month. During Super Bowl LII in February 2018, she was featured in an ad for Rihanna's cosmetic company, Fenty Beauty.That month, she signed to Warner Bros. Records (since May 2019 Warner Records) and her manager Max Gousse's record label Artistry Worldwide.
Saweetie released her major label debut EP, High Maintenance, on March 16, 2018. It is composed of nine tracks and was produced by CashMoneyAP, Nyrell, and Saweetie's cousin, Zaytoven.] The single, "Icy Girl" was certified Gold in June 2018, for sales of 500,000 in the US. It was certified platinum in September 2019.
Saweetie released her second major label EP, Icy, on March 29, 2019. The EP's first single, "My Type", written by Saweetie and produced by London on da Track, samples "Freek-a-Leek" by Petey Pablo. Debuting on the Billboard Hot 100 at number 81, It was the first song of Saweetie's to enter the Hot 100. "My Type" later peaked at number 21, becoming Saweetie's first top 40 hit on the Billboard Hot 100. A remix of the song featuring Jhené Aiko and City Girls was released on August 23, 2019. In September 2019, "My Type" hit number 1 on the Rhythmic Radio charts, and was later certified double platinum in the United States.
Saweetie collaborated with PrettyLittleThing to launch a 59-piece clothing collection, PrettyLittleThing x Saweetie, in September 2019. She said the theme of the capsule was "a boujie rich girl enjoying the finer things in life. I want to show the boys and girls that if you hustle hard your work will pay off." It debuted during New York Fashion Week.
Saweetie appeared on Nick Cannon Presents: Wild 'N Out as a guest performer, where she performed her single, "My Type" which aired on VH1 on January 28, 2020.
Saweetie released the lead single, "Tap In", from her upcoming debut album titled Pretty Bitch Music on June 20, 2020. The single peaked at number 20 on the Billboard Hot 100 and became her first song to enter the UK Singles Chart, peaking at number 38. This was followed by the promotional single, "Pretty Bitch Freestyle", on July 2, 2020.
On July 31, 2020, Saweetie appeared alongside American rapper Tay Money on the song "Bussin 2.0", with a music video premiering the same day. On August 6, 2020, Saweetie was featured on Ava Max's song, "Kings & Queens, Pt. 2", alongside Lauv.
On October 23, 2020, she released "Back to the Streets" featuring Jhené Aiko, which serves as the second single from Pretty Bitch Music. The album's third single, "Best Friend" featuring Doja Cat, was released on January 7, 2021.
Media