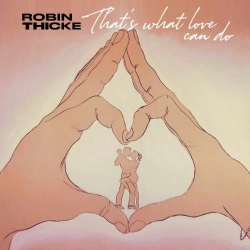 Robin Thicke
"That's What Love Can Do"
Robin Thicke is an American singer-songwriter and record producer.
He has collaborated with numerous artists, such as Christina Aguilera, 3T, T.I., Nicki Minaj, K. Michelle, Pharrell Williams, Usher, Jennifer Hudson, Flo Rida, Brandy, Kid Cudi and Mary J. Blige. Thicke worked on albums such as Usher's Confessions and Lil Wayne's Tha Carter III, while releasing his own R&B singles in the U.S. including "Lost Without U", "Magic", and "Sex Therapy". He rose to international fame in 2013 with his single "Blurred Lines", which reached number one on the US Billboard Hot 100.
He is a son of late actor Alan Thicke and actress Gloria Loring and was married to actress Paula Patton. In 2013 and 2014, their separation and divorce were covered extensively by the tabloid press.
Following the release of Paula, Thicke spent several months largely away from media appearances and performing in order to focus on his personal life and to work on new music. Thicke returned to the spotlight at the 2015 BET Awards to sing the classic Smokey Robinson and The Miracles hit "Ooo Baby Baby" in tribute to Lifetime Achievement Award recipient Smokey Robinson and joined Robinson on stage for a group rendition of "My Girl" alongside Tori Kelly and Ne-Yo. On June 29, on the heels of his BET Awards performance, Thicke debuted the lyric video for his new single "Morning Sun", on VEVO followed by the official release of the single on June 30. "Morning Sun" rose to the number 4 position on the Billboard Adult R&B Songs chart becoming Thicke's 11th top 10 hit on Urban AC radio.
Speaking with Prestige Hong Kong, Thicke explained: "The new album is call[ed] Morning Sun. It's about fresh starts, new beginnings, and the heralding in of a new day. It's about the last year of my life, the time I've spent with my friends and family and especially my son." Thicke also spoke of working again with Pharrell and Timbaland as well as with new collaborators DJ Mustard, Max Martin, and Ricky Reed. Another new single "Back Together", featuring Nicki Minaj, was released on August 6, 2015.
Thicke rejoined the cast of Real Husbands of Hollywood in 2016 for its fifth season. In the premiere episode, Thicke parodied his publicized personal and professional troubles including his divorce, lawsuit, drug use and poorly received album.
In January 2019, Thicke began appearing as a panelist on the reality competition series The Masked Singer.
Media