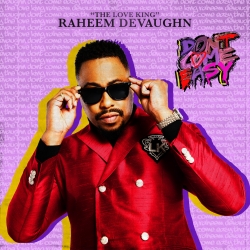 Raheem DeVaughn
"Don't Come Easy"
Raheem DeVaughn (born May 5, 1975) is an American singer and songwriter. His debut album, The Love Experience (2005), reached No. 46 on the US Billboard 200 album chart. It featured the singles "Guess Who Loves You More" and "You". His second album Love Behind the Melody was released in January 2008. It features the singles "Woman", and "Customer".
DeVaughn has been compared to Dwele, Van Hunt, D'Angelo, Marvin Gaye, Donny Hathaway and Stevie Wonder. DeVaughn has described himself as a "R&B hippie neo-soul rock star," a take on the difficulty media types have classifying him. Although Jive has been thrown considerable weight behind his recent album, DeVaughn doesn't leave promotion duties entirely to his label: "I'm my best marketing tool. I'm building the brand Raheem DeVaughn. I have to do it." He worked on the street to spread the word around, sold mixtapes of unreleased material to build hype, and provided impromptu shows at local venues. In another act of self-promotion, DeVaughn made an appearance on The Tonight Show with Jay Leno in late January, wearing a shirt that read "Grammy Nominated on the front" and "Love Behind the Melody-- In Stores Now" on the back. He also appeared on the late-night talk show Jimmy Kimmel Live!, performing "Woman" on January 18, 2008.
His song "Woman" was featured as iTune's single of the week the week of January 27, 2008 and received a nomination for Best Male R&B Vocal Performance for the 2008 Grammy Awards.
In 2008, he was featured on T-Pain's song, "Reality Show" from the album Thr33 Ringz. The song also featured Jay Lyriq and Musiq Soulchild.
His song "You" was featured in the Grand Theft Auto IV video game.
DeVaughn was nominated for "Best R&B Album" in the 2011 Grammy Awards.
In September 2013, DeVaughn released his fourth studio album A Place Called Love Land on new label Mass Appeal Entertainment. The first single released from the album was "Love Connection".
A Place Called Love Land, his fourth album, was released in 2013. In 2015, he had released his fifth album, Love Sex Passion. DeVaughn is currently set to release his sixth album Decade of a Love King on October 19, 2018.
Media