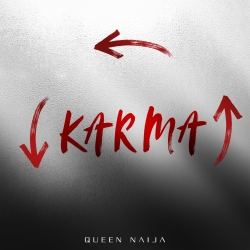 Queen Naija
"Karma"
Queen Naija Bulls (born October 17, 1995), known professionally as Queen Naija, is an American singer and songwriter.
In December 2017, she self-released the song "Medicine". She was an unsigned social media star, but the song made a No. 45 debut on the Billboard Hot 100 for the week of April 10, 2018. In June 2018, she released her second single, "Karma", this time as a signed artist to Capitol Records. On its release day, the song reached #1 overall on the iTunes charts.
Queen Naija released her self-titled extended play on July 27, 2018. It consists of five songs: "Medicine", "Karma", "Mama's Hand", "Butterflies", and "Bad Boy".[28] The project includes production from No I.D., El Jefe, Rob Grimaldi, 30HERTZBEATS, and ClickNPress.
Queen Naija has described the EP as an emotional journey in which each song describes either an experience or emotion she has gone through. The songs reference topics including heartbreak and betrayal, motherhood, and finding new love again. "Medicine" deals with her heartbreak and emotions toward her ex-partner, and "Karma" explains overcoming the heartbreak while sending a message that she will be fine. "Mama's Hand" dedicated to her son; she promises to give him everything and encourages him to have optimistic thoughts about the future.[32] "Butterflies" reveals that she is beginning to fall in love again with someone new. "Bad Boy" describes her connection with a new lover, and how her goodness may cause him to change for the better. In August 2018, the EP debuted at #26 on the Billboard 200 and reached #1 on the Apple Music R&B charts.
Media