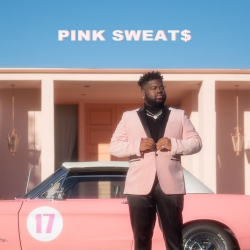 Pink Sweat$
"17"
David Bowden, known professionally as Pink Sweats (stylized as Pink Sweat$), is an American singer and songwriter. He is best known for his song "Honesty", which reached #23 on Spotify's Global Viral Chart and #10 on Spotify's US Viral Chart, and tallied over 2 million streams in under 8 weeks. He released his first EP Volume 1 on November 2, 2018.
Pink Sweats didn't grow up with a lot of musical influence until he was 17 years old, but admired artists like Michael Jackson, Prince, and Kanye West. He became a musical artist after surviving a three-year battle with Achalasia. His stage name was adopted as he always wore pink sweatpants and was given the nickname "Pink Sweats".[4] He first started making music at the age of 19 as a demo vocalist at Sound Stigma Studios, where he discovered his love for songwriting and began to develop his career in music. He produced in different genres of music for rapper Tierra Whack and country duo Florida Georgia Line.
On July 12, 2018, he released his first single "Honesty", which later started to gain attention on streaming platforms, reaching #10 on Spotify's US Viral Chart. He released the second single "No Replacing You" on July 26. His debut EP Volume 1 was released on November 2, 2018, as the singer put out a music video for "Drama" later that month. He later followed this release with the sequel EP Volume 2.
Media