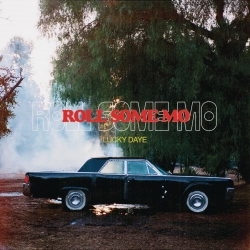 Lucky Daye
"Roll Some Mo"
David Debrandon Brown, better known by his stage name Lucky Daye, is an American singer and songwriter from New Orleans, Louisiana. He is signed to the RCA joint venture label Keep Cool and released his first EP on the label titled I on November 9, 2018. The EP is part of a series leading up to his debut album Painted, which is set for release later in 2019.
David Debrandon Brown in a cult in New Orleans, Louisiana that forbade secular music, but he discovered an innate knack for singing and taught himself melodies by turning children books into songs of his own. After his mother left the cult due to Hurrican Katrina and moved to Tyler, Texas, Brown found himself going back to immerse himself in classic R&B and eventually fell hard for the likes of Prince, Rick James, Lauryn Hill, and Stevie Wonder. He soon relocated to Atlanta, Georgia to pursue music.
Lucky Daye established himself as a songwriter and background vocalist and landed credits in 2008 on songs by Keith Sweat on his album Just Me and Ne-Yo on "She Got Her Own". In 2014, he wrote for Boyz II Men on the song "Believe Us". During 2016 and 2017, he co-wrote songs released by Keke Palmer ("Enemiez"), Ella Mai ("10,000 Hours," "Down"), Trey Songz ("Song Goes Off"), and two tracks from the album Strength of a Woman by Mary J. Blige, among other contemporary R&B artists.
In October 2018, Lucky Daye announced that he was signed to the RCA joint venture Keep Cool, and released his first single called "Roll Some Mo".[6] On November 9, he released his first EP titled I, which is part of a series leading up to his forthcoming debut album Painted. All of the songs on the upcoming album were written by Lucky Daye, and was executive produced by Dernst "D'Mile" Emile II, recorded in 2018. Of the 15 they finished, 13 are slated to appear on the debut album.
On January 17, 2019, Lucky Daye released the first single from the second EP in the series called "Karma". He is slated to go on tour with Ella Mai beginning in February 2019.
Media