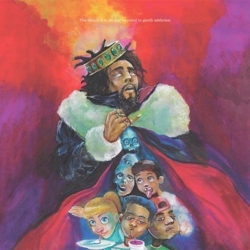 J Cole
"ATM"
Jermaine Lamarr Cole (born January 28, 1985) is an American hip hop recording artist and record producer. Born on a military base in Germany but raised in Fayetteville, North Carolina, Cole initially gained recognition as a rapper following the release of his debut mixtape, The Come Up, in early-2007. Intent on further pursuing a solo career as a rapper, he went on to release two additional mixtapes after signing to Jay-Z's Roc Nation imprint in 2009.
Cole released his debut studio album, Cole World: The Sideline Story, in 2011. It debuted at number one on the U.S. Billboard 200, and was soon certified platinum by the Recording Industry Association of America (RIAA). His next two releases, 2013's Born Sinner and 2014's 2014 Forest Hills Drive, received mostly positive reviews from critics, and both were certified platinum in the United States. The latter earned him his first Grammy Award nomination for Best Rap Album. In December 2016, Cole released his fourth studio album 4 Your Eyez Only. The album debuted at number one on the Billboard 200 chart and was certified platinum in April 2017. His fifth album, KOD, was released in April 2018.
Self-taught on piano, Cole also acts as a producer alongside his hip-hop career, producing singles for artists such as Kendrick Lamar and Janet Jackson, as well as handling the majority of the production in his own projects. He has also developed other ventures, including Dreamville Records, as well as a non-profit organization called the Dreamville Foundation. In January 2015, Cole decided to house single mothers rent-free at his childhood home in Fayetteville, North Carolina.
On April 16, 2018, J. Cole announced a surprise free event for fans at the Gramercy Theatre in New York City. The event turned out to be a listening session for his forthcoming album,[108] titled KOD, which was released on April 20, 2018. Cole held a second listening session in London the next day. The album's cover and tracklist show twelve tracks and two features, both by Cole's alter ego, Kill Edward.
On its first day, KOD broke the previous record for Views by Drake in 2017 by receiving 64.5 million streams on Apple Music. It accumulated 36.7 million streams on Spotify in its first 24 hours as well. Additionally, the titled track also surpassed Taylor Swift's "Look What You Made Me Do" by 0.4 million streams on its first day. The album debuted at number one on the US Billboard 200, earning 397,000 album-equivalent units, including 174,000 in pure sales, making it Cole's fifth number one album. J. Cole also became the first act to simultaneously debut three songs in the top 10 of the Billboard Hot 100, with "ATM" (at 6), "Kevin's Heart" (8), and "KOD" (10). The remainder of the album also debuted in the Hot 100, totalling to twelve songs on the chart. "KOD" was released as the album's first single, on May 8, 2018. Cole released music videos for the songs "ATM" and "Kevin's Heart", both videos was directed by Cole and Scott Lazer. Songs from the album were featured in the official 2018 NBA Playoffs and the NBA Finals promotion for ESPN. On April 27, 2018 it was announced that Cole was working on another project titled The Fall Off, Cole said that he planned to release The Fall Off before he recorded KOD. Cole also confirmed that he is working on a Kill Edward album. On May 14, 2018, KOD was certified Gold by the Recording Industry Association of America (RIAA) for sales of over 500,000 album-equivalent units in the US.
Cole announced the KOD Tour on May 8, 2018, rapper Young Thug will serve as the supporting act. The tour will include 34 North American dates, starting in Miami, on August 9 and concluding in Boston, on October 10, 2018.
Media