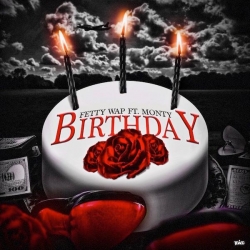 Fetty Wap
"Birthday"
Willie Maxwell II, known professionally as Fetty Wap, is an American singer, rapper, and songwriter. He rose to prominence after his debut single "Trap Queen" reached number two on the U.S. Billboard Hot 100 chart in May 2015. This helped Fetty Wap secure a record deal with 300 Entertainment. He subsequently released two Top 10 singles in the U.S., "679" and "My Way". Fetty Wap's eponymously titled debut album was released in September 2015 and reached number one on the U.S. Billboard 200 chart.
On February 5, 2016, Fetty Wap released a new single titled "Jimmy Choo".On April 26, 2016, it was announced that Fetty Wap would be getting his own mobile racing game available on phone, tablet, and Apple TV starting on May 3.[29] The game is offshoot of mobile game Nitro Nation Stories. A street racing game, it has multi-player, car customization, and different storylines to choose. It has partnered with automotive brands like BMW, Nissan, and Cadillac. The Fetty Wap version will include Fetty Wap and Monty into the storyline.
Wap was featured on the Fifth Harmony 2016 single "All in My Head (Flex)". He released the single "Wake Up" in April 2016. The official music video for the song was filmed at his alma mater, Eastside High School. His single "Make You Feel Good" was released in August 2016.
On November 21, 2016, he released a 19 track mixtape titled Zoovier.
His song "Like a Star" features Nicki Minaj and was released in December 2016.
On January 4, 2017, he released the song "Way You Are" featuring Monty,and the song "Flip Phone" on February 10, 2017. He walked in Philipp Plein's runway show during New York Fashion Week in February 2017.
Wap released the single "Aye" on May 12, 2017. He released the mixtape Lucky No. 7 on June 7, 2017. On August 18, 2017, the single "There She Go" featuring Monty was released. In October 2017, Wap featured in Cheat Codes' single "Feels Great" with CVBZ.
At 1:20 AM on November 2, 2017, Wap was arrested after being pulled over on a Brooklyn highway. He was subsequently charged with reckless endangerment, drunk driving, aggravated unlicensed operation of a motor vehicle, illegally changing lanes, and drag racing.
On January 19, 2018, Wap released the EP For My Fans III: The Final Chapter. He released the mixtape Bruce Wayne in June 2018.
Media