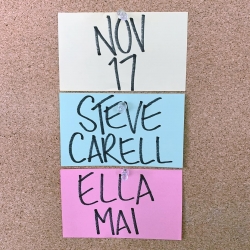 Ella Mai
"Saturday Night Live"
Ella Mai will make her Saturday Night Live debut as the musical guest on the Nov. 17 episode, which will be hosted by actor Steve Carell. Carell will be hosting Saturday Night Live for a third time.
Ella Mai Howell is a British singer and songwriter. She is signed to DJ Mustard's label 10 Summers Records and has released three extended plays. Her most recent EP, Ready, was released in February 2017 and featured the single "Boo'd Up", which was released in 2018. Her debut album, Ella Mai, was released on 12 October 2018.
riginally from London, Mai moved to New York City at the age of 12, before returning to England after graduating from Queens High School of Teaching in Glen Oaks, Queens. Whilst studying at the British and Irish Modern Music Institute London (BIMM London) in 2014, she competed on season 11 of The X Factor as part of a trio, Arize, but didn't advance beyond the initial audition for the judges. The group broke up shortly thereafter. The following year, Mai uploaded a four-track solo EP of originals to SoundCloud titled Trouble, produced by her high school friend [Dj Kam 1] who was also her dj on Kehlani's Sweet, Sexy , Savage Tour in 2017. After being discovered on Instagram, she signed to DJ Mustard's label, 10 Summers Records.
Ella Mai is signed to Interscope Records. In February 2016, she released Time, the first in her EP trilogy. The six-track EP included the single, "She Don't", which featured Ty Dolla Sign. She released her second EP, Change, in November 2016 and third, Ready, in February 2017. "Boo'd Up" which was featured on the EP rose in popularity on social media as well as in nightclubs over the next few months. Ella Mai toured with Kehlani on her SweetSexySavage World Tour. After Mai served as the opening act on Kehlani's tour, her music reached a bigger audience and the song grew on radio airplay in the spring of 2018. On 26 April 2018, she released a music video for "Boo'd Up" after it unexpectedly started to gain popularity. The song became her first top ten song in the US in the following month, deeming it her "breakthrough hit". Rolling Stone wrote that the single is "one of the biggest singles by a breakout female R&B singer in the past 10 years." The single peaked at number five on the US Billboard Hot 100, as the singer topped the Emerging Artists chart.
On August 14, she joined Bruno Mars on the 24K Magic World Tour after Cardi B dropped out. On August 3, she released the single "Trip", with an accompanied music video releasing on September 18. The song peaked at number 11 on the Billboard Hot 100. Ella Mai released her self-titled debut album, a 16-track set featuring hit "Boo'd Up", on 12 October 2018. The album sold 64,429 album-equivalent units with 16,777 coming from pure sales.[15]