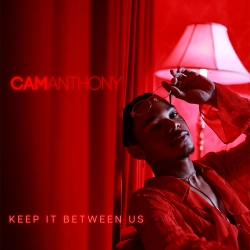 Cam Anthony
"Keep It Between Us"
Cam Anthony is an American singer who experienced pre-teen success with viral YouTube videos, and later won the FOX revival of Showtime at the Apollo in 2018, and the 20th season of The Voice in 2021, where he was coached by Blake Shelton.
The 21 year old R&B/Soul singer from Philadelphia, PA has performed at the White House frequently.
"Keep It Between Us" serves as his official introductory single through Republic Records. The sultry single kicks things off ahead of his debut EP arriving this Fall.
Cam has already received many co-signs for his popular covers including one recently from Jazmin Sullivan. He's also performed the national anthem at numerous NFL & MLB games and has amassed 5.5M+ views on YT.
"Keep It Between Us" Meaning from Cam Anthony: Describes a moment of relating to someone so deeply that it's intoxicating. The lyrics and groove are evenly paced akin to an anxious beating heart--bringing the listener right into the moment. The lyrics insight imagination and intrigue and the phase within the journey that is uninhibited and free - this song is masterful in the way its performance hugs the lyrics and expresses the emotion of this moment.
"Keep It Between Us" Visuals: "Keep It Between Us" is a "RED" song about a lingering memory, a desire, amplified by a momentary connection that evolves into a beautiful tryst . The question is, whether it was real or simply a day dream.
Media