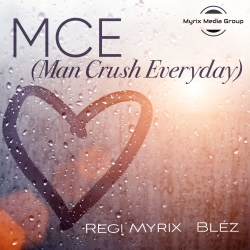 Regi Myrix & Bléz Cloe
"Man Crush Everyday"
Willingboro, NJ, March 2, 2018– Myrix Media Group and Soul-Singer Blez' team up to bring forward more than candy BUT Man Crush Every day! A sexy 80's throwback touch of classic wonder, MCE is sure to make summer heat come in a little early! Already a veteran in the music industry, terms that come to mind when saying the name "Regi Myrix" include: Incredible, Humble, Talented, but most of all…CAPABLE!
Regi Myrix, a native of Willingboro, NJ, has birthed Myrix Media Group, an Independent Operated music production company with the mission statement that sums everything up by providing professional, reliable music production and multimedia services to Major/Independent artist and other entertainment professionals. Myrix is no stranger to success with a string of artist production credits with Kim Tibbs' Soul!" an Official U.K. Soul Chart Number #1 Hit; Noel Gourdin's (No Worries Remix with Hil St Soul) a Number#2 Official U.K. Soul Chart hit; Lina's, Who To Love" #10 Official U.K. Soul Chart and (DIP), as well other productions with Lenora Jaye, John Michael, LUnique. Myrix is also an In-House Producer for Soulside Productions.
Bléz, a native of Washington, D.C., hit the music scene full force with the release of, "Love Me Baby," in 2015, followed by her smashing hit, "Black Girl Magic" as the second, in 2017. She is currently working on her debut album Love, Life, Emotion Vol. 1 The Experience, which is expected to be released sometime in spring 2018. Together the two are cooking up more than a crush but a single that spells desire, magic, and heat all wrapped into one!