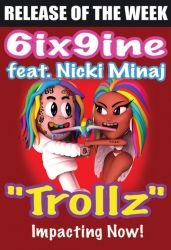 6ix9ine
"Trollz"
Daniel Hernandez, known professionally as Tekashi 6ix9ine or just 6ix9ine (pronounced "six nine"), is an American rapper, songwriter, and convicted felon. His music has been marked by an aggressive style of rapping, while his controversial public persona is characterized by his distinctive rainbow-colored hair, extensive tattoos, public feuds with fellow celebrities, and legal issues.
6ix9ine became widely known in late 2017 after the release of his debut single, "Gummo", which was a sleeper hit. He subsequently released the mixtape Day69 (2018), which was supported by the singles "Kooda", "Keke", and "Gotti", all of which charted on the Billboard Hot 100. "Fefe", featuring Nicki Minaj and Murda Beatz, a single from his debut album Dummy Boy (2018), peaked at number three on the Hot 100. Despite negative critical reception, Dummy Boy was certified platinum by the Recording Industry Association of America (RIAA). His first single since his release from prison, "Gooba", was released alongside a music video and broke the record for the most-viewed online hip hop video in the first 24 hours.
In 2015, 6ix9ine pled guilty to a felony count of use of a child in a sexual performance, and received a four-year probation period and a 1,000-hour community service order. In 2018, he was arrested on racketeering, weapons, and drugs charges. He pled guilty to nine charges including conspiracy to murder and armed robbery in February 2019, and was given a two-year prison sentence after testifying for the prosecution. In April 2020, he was granted early release during the COVID-19 pandemic following fears over his vulnerability to the disease due to his asthma condition, and was put on house arrest for the remainder of his term.
Media